Infant Day Care Program
We specialize in all your Infant Care needs
Looking for a nurturing, quality infant day care for your baby?
Hoping to find a place that will fill your infant's day with many happy experiences?
Wondering if there's anywhere that offers warm, welcoming nurseries?
That's exactly the same thing that our executive director and registered nurse, Katie Roche, was looking for in 1980, and when she couldn't find it, she resolved to start her own infant day care. That's how Rainbow Chimes was born more than 25 years ago, and the nurturing philosophy in our infant nurseries still continues.
When you enroll your baby in the day care program at Rainbow Chimes, their day will be filled with enjoyable encounters in one of our specialized nurseries. The last thing your baby needs is indifferent caregivers who look at their phones more than they look at your child; rest assured, you will not find that style of child care here. Our commitment is to your child. Your baby will be encouraged to explore their environment in a gently structured way.
Our Staff
We want your baby to be able to satisfy their curiosity about the world around them, stimulate their senses, and grow in their physical and cognitive development.
We hire nurturing people who are qualified as early childhood development professionals. These caring, competent individuals create an atmosphere of safety and trust. We maintain a 2:8 ratio of credentialed teachers and assistant teachers to babies, and often this ratio is an even better 3:8 due to our use of dedicated float staff instead of outside substitutes.
Real-Time Reporting
As a parent, your heart bleeds a little for every moment you're away from your child.
Get the updates that will get you through the day. Here's what we offer you as part of your child's enrollment in Rainbow Chimes:
Attentive care that is personalized and documented for each baby
Adaptability to unique schedules and nutritional needs
Tracking and uploading all data to parents' desktop or mobile devices in real-time throughout the day
Photos and messages that capture various happy experiences of the babies' day
Closed Circuit Camera Monitoring
Your child's safety and well-being are paramount.
Our support staff monitor nurseries during the day via closed-circuit cameras and intercoms so that additional assistance can be provided if several babies need extra attention, feeding, or diaper changing all at once.
Age-Appropriate Curriculum
Don't leave your child's cognitive development to chance.
We believe in being intentional about offering age-appropriate developmental activities to your child. Our adaptation of the High Scope Curriculum ensures that your baby won't just be dropped in the middle of a floor full of toys and left to figure out the world without any adult input. We use key experience indicators as a basis for planning, and we offer your child the age-appropriate activities that will stimulate their development.
Benefits of our active learning environment:
Your baby is allowed to explore
They begin to relate to others
They find out about themselves
They discover how they communicate
They grow in their own physical development
They begin to understand their world — how things are related to each other and how some things share characteristics
They start to make some order and sense of their surroundings, spatially and temporally
The Nursery Environment
Your baby deserves a clean, safe, and fun place to play, eat, and nap.
The nursery environment provides areas where babies can freely crawl, socialize, and play with age-appropriate toys. Here's what sets our nurseries apart at Rainbow Chimes:
Young babies are held when being bottle-fed
Older babies are seated in special supportive chairs for meals and table-play
Napping alcoves are protectively watched over by a caregiver at all times
Floors and rugs are cleaned every day
Used toys are washed twice a day
Diapering areas are sanitized using an approved virucidal cleaner
Each nursery is aired out every day
Our BabyScapes Playroom has ultra-cushioned floors and a variety of equipment to foster large motor development. An enclosed grassy courtyard adjacent to the nurseries provides an outdoor play area dedicated to infants only, with specialized equipment geared to their tender age. Infants also go outside in special buggies when weather permits.
We are sure you will agree that your baby will have a joyful, creative, and fun experience at Rainbow Chimes' infant day care program!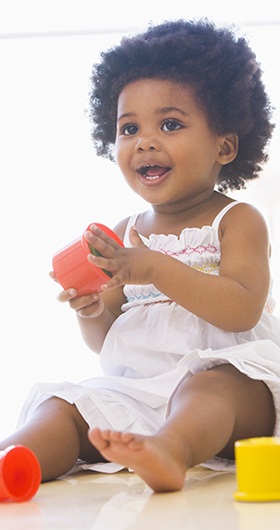 "The learning environment was important, but it was really more the overall environment of the cleanliness, the people there, how they're all very friendly and approachable, and that the kids were really having a good time." – Grace Ingram