HighScope Curriculum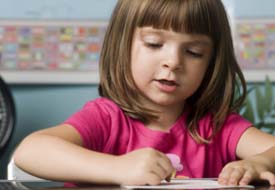 Rainbow Chimes implements a highly regarded, developmentally appropriate curriculum called HighScope, based upon the fundamental premise that children are active learners who learn best from activities that they plan and carry out themselves. This approach promotes extended and enhanced thinking skills and responsible behavior, building self-esteem and self-worth. Early leadership abilities become evident when such cognitive development, boosted by confidence, emerges.
Based on the clinical and laboratory work of child psychologist Jean Piaget, the HighScope Educational Approach maintains that the best early childhood learning activities are child-initiated, developmentally appropriate, and open-ended. HighScope embraces an environment in which the child develops through active learning aided by key experiences and supported by teachers who invite their curiosity and encourage their participation.
The Perry Preschool Study, an ongoing clinical study of 123 youths, provides evidence showing the lasting effects of receiving exposure to the HighScope Educational Approach at ages 3 through 11. The study documents altered performance by a factor of nearly two on four major variables at age 19. The results of The Perry Preschool Study are further documented by three decades of several other child outcome studies. The evidence for the effectiveness and widespread use of the HighScope curriculum is compelling. Participants achieve better school performance, socio-economic success, and social responsibility, and do better intellectually. No other educational curriculum for children has demonstrated such a variety of important effects.
The HighScope Educational Research Foundation in Ypsilanti, Michigan has trained and endorsed the Rainbow Chimes' Executive Director to train teachers in the HighScope curriculum.
The HighScope Classroom
The layout and design of the HighScope classroom facilitate the implementation of the curriculum. The room is divided into specialized areas each intended to develop a specific behavior. Likewise, the areas of the room are adapted for the differences between the various ages and developmental stages of children in the room.
These rooms are arranged with best quality commercially-available materials to allow the children easy access and visual accessibility. The basic areas are:
Art – This area contains all types of art-related materials to initiate creative play, including: paint, paper, glue, fat crayons, play-dough, and other age-appropriate items. This area has a tiled floor to facilitate clean-up.
Block – This area is stocked with many types of blocks of rudimentary shapes and forms, providing basic materials for design and building, including: wooden blocks, brightly colored plastic blocks, cardboard brick blocks, soft foam blocks, larger nesting cubes, cars, and animals and people for props. This area has a low-napped rug to decrease the noise level.
House/Social – This area contains replicas and real examples of household goods including: cups, bowls, cans, pots and pans, puppets and dolls, and related items. This area is situated next to the block area to encourage reciprocal and role play, and to bring imaginative effects to fruition.
Quiet – This zone helps to create a cozy, secure, insulated area where children can participate in quiet activities such as reading, writing, or relaxing alone or in small groups. An assortment of books and story-telling props are available. Thought-provoking games and manipulative toys are included in the area for the development of cognitive skills. This area has a low-napped rug to help create the intended atmosphere.
The classrooms also contain certain enriched areas and mobile "exhibits" to provide enhanced stimulation in disciplines, including:
Music and Movement – This area enables large group interaction designed for active large muscle development including: song, dance, performing arts, and games.
Construction/Woodworking – This exhibit, equipped with real carpentry tools, initiates creativity and dexterity.
Sand and Water – This exhibit, equipped with a basin or specialized proportioned table and small filling and dumping toys, allows children to feel, touch and manipulate materials of varied texture.
Science/Math/Nature – These flexible and changing exhibits introduce the children to various aspects of the physical world in an interesting, entertaining manner that invites an interactive response.
Language, Literacy, and Communication – All of the classrooms are immersed in an environment rich in books and meaningful language experiences that promote the children's development in both receptive and expressive language skills. Babies and toddlers are read to daily and are encouraged to express themselves using their own words while the teachers model appropriate language and write down words and stories dictated by the children as they grow. As the children advance in our early childhood education programs, they are provided opportunities for growth in language skills through investigative and meaningful learning experiences in preschool reading, writing, phonological awareness, alphabetic principle, speaking and listening, book knowledge, and general concepts about print.
All areas and materials are labeled in various ways, including: written, pictorial, and photographic, or with actual pieces of the object affixed in the appropriate place. This labeling facilitates clean-up and keeps toys and other materials organized in their proper order in the appropriate area. It also assists in pre-reading skills such as one-to-one correspondence, de-coding, and symbolic recognition.
"Before he wasn't in a daycare that really followed through or anything. It was more of a place that he was just there. At Rainbow Chimes I noticed that his behavior changed. And I noticed that that at Rainbow Chimes it's more structured. He knows it's time to play, it's time to eat, it's time to study, it's time to read. He already got that down there and I know that that's a lot to do with the curriculum that they have in school." – Suelem Artzt